Sign up here to read to a class! Sessions will last 20 minutes.
Please call in a minute or so early. Our Skype ID is Westchesterlibrary.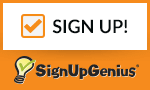 Skype Guest Reader Book Choices

Frequently Asked Questions:

How do I choose which book to read?
The book options are listed here on this website (see above).

How long is the storytime?
The storytime will last approx. 20 minutes.

Where do I download Skype for my computer?
http://www.skype.com/

What account do I contact in Skype?
Our Skype name is Westchesterlibrary.

Who do I email with questions?
Sandi Dennis, librarian-- sdennis@csdecatur.net

What time zone are the listed times?
All available times listed are Eastern time.

Why do you need my city, state, country when I sign up?
We will also create a Google Map of all the home locations of our guest readers! When you sign up, please indicate your location for our map.

Will there be other opportunities for Skype storytimes?
YES- We plan to have sign-ups several times this school year.